Chalet Host for Ski Miquel
We are looking for social people with a hospitality background to join our overseas team as a Chalet Host in one of our chalet-hotels next winter.  The successful applicant will need to hold an EU passport or have the right to work in France, Austria or Spain.
Our Hosts are the cogs that drive our operation in resort – Without them keeping our rooms and accommodation clean and tidy, assisting our chefs with food preparation, dealing with guest requests and running meal services, our chalet-hotels would grind to a halt!  As the face of the company, it is the Hosts' job to ensure our guests are not on just another ski holiday, but to make sure they have the true 'Ski Miquel Experience'.
This is a role for sociable people who are willing to work hard and enjoy all that the mountains have to offer.  If you do, your work ethic will be rewarded with a job that gives you plenty of time on the slopes, as well as interacting with our guests, making it ideal for someone who is outgoing and loves meeting new people.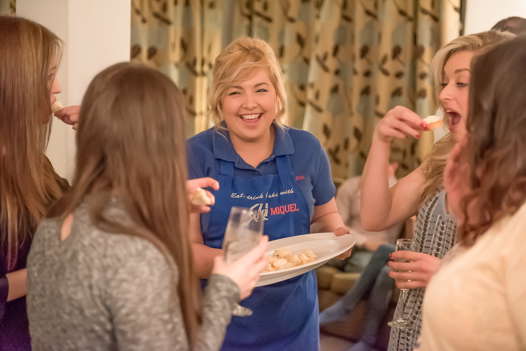 The Role
This is a diverse role, with a variety of shifts during the week.  The following is an outline of the principal tasks that are expected of our Chalet Hosts over the course of a normal week:
In the morning you will be required to assist with preparing and serving breakfast to our guests.
Following breakfast, you will clear the tables and prepare them for afternoon tea, as well as making sure the communal areas are clean and tidy.  The guest bedrooms are normally cleaned every other day (including the toilets and showers) and this should all be completed within a few hours, which means you should be free to get out on the mountain during the afternoons.
Afternoon tea is served from 4:30-5:30pm, after which the chef may require assistance with preparation of the evening meal and canapés, which you will serve in the bar before dinner. 
Dinner is served at 7:30pm each evening and consists of 3 courses, including chalet wine, and is finished off with a cheese course.  Once dinner has been served, the dishes have been washed and the dining room has been cleaned, mopped, and prepared for breakfast, your day is done.
Changeover day is the longest day, with deep cleaning of all bedrooms, bathrooms and communal areas before the new guests arrive, making sure the chalet-hotel is warm and welcoming for their arrival.  Soup is provided after the guests arrive, with the full dinner service in the evening.
The Chalet Host role requires early starts, hard work and effective teamwork, but provides you with rewarding guest interaction and a great opportunity to explore the mountains in your free time.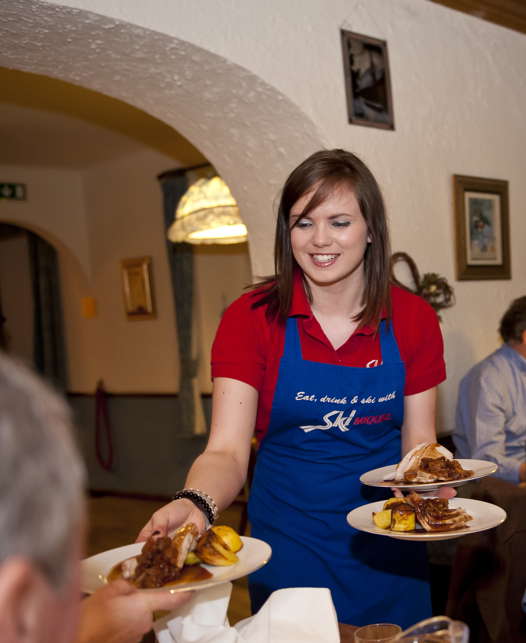 The Candidate
Personal qualities:
Punctual
Hard-working
Proactive
Friendly and engaging
Sociable
Team player
High attention to detail
Well-presented
Customer-focussed
Essential Requirements:
Must have a valid EU passport or must already have the right to work in the European Union.
Must have a high level of spoken English to be able to communicate well with guests and other staff.
Previous hospitality experience.
The ability to speak another foreign language is preferred but is not essential.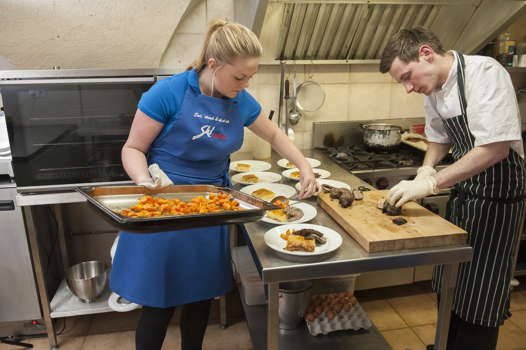 Chalet Host Package
Our Chalet Hosts will receive the following as part of their employment package for the 2023/24 winter season:
Competitive salary.
Share of weekly tips.
One day off per week.
Holiday pay.
Accommodation arranged but charged for.
Meals provided.
Lift pass arranged but charged for.
Ski or snowboard equipment hire provided.
Insurance provided.
Ski Miquel uniform provided.
Discretionary contribution towards travel to and from resort.
If you are interested in applying for this position, please send a CV and covering letter to jobs@skimiquel.co.uk