The Five Peaks

of Baqueira
When Vicki joined Ski Miquel she had never heard of Baqueira, so she was keen to discover what skiing in the Pyrenees was like, and she headed out to Baqueira for some Spring skiing in April.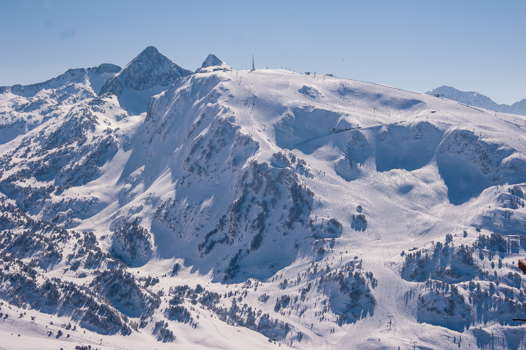 This was my first trip to Baqueira and it certainly lived up to the phrase "the best resort you've never heard of". It had not been on my radar before I joined Ski Miquel, but it quickly cemented itself as a firm favourite. After five fantastic days skiing around Baqueira, Beret and Bonaigua in superb April conditions with plenty of snow, we thought we had experienced all the area had to offer, but our Resort Manager had one final treat in store for us: To see if we could complete the 'Five Peaks Challenge'! This involved covering the entire ski area and conquering the highest peaks in the resort - Challenge accepted!
The Five Peaks comprised the Tuc de Beret (or as close as we could get to it), Cap de Baciver, Cap de Baqueira, Tuc de la Llança, and Cap de la Peülla over in Bonaigua.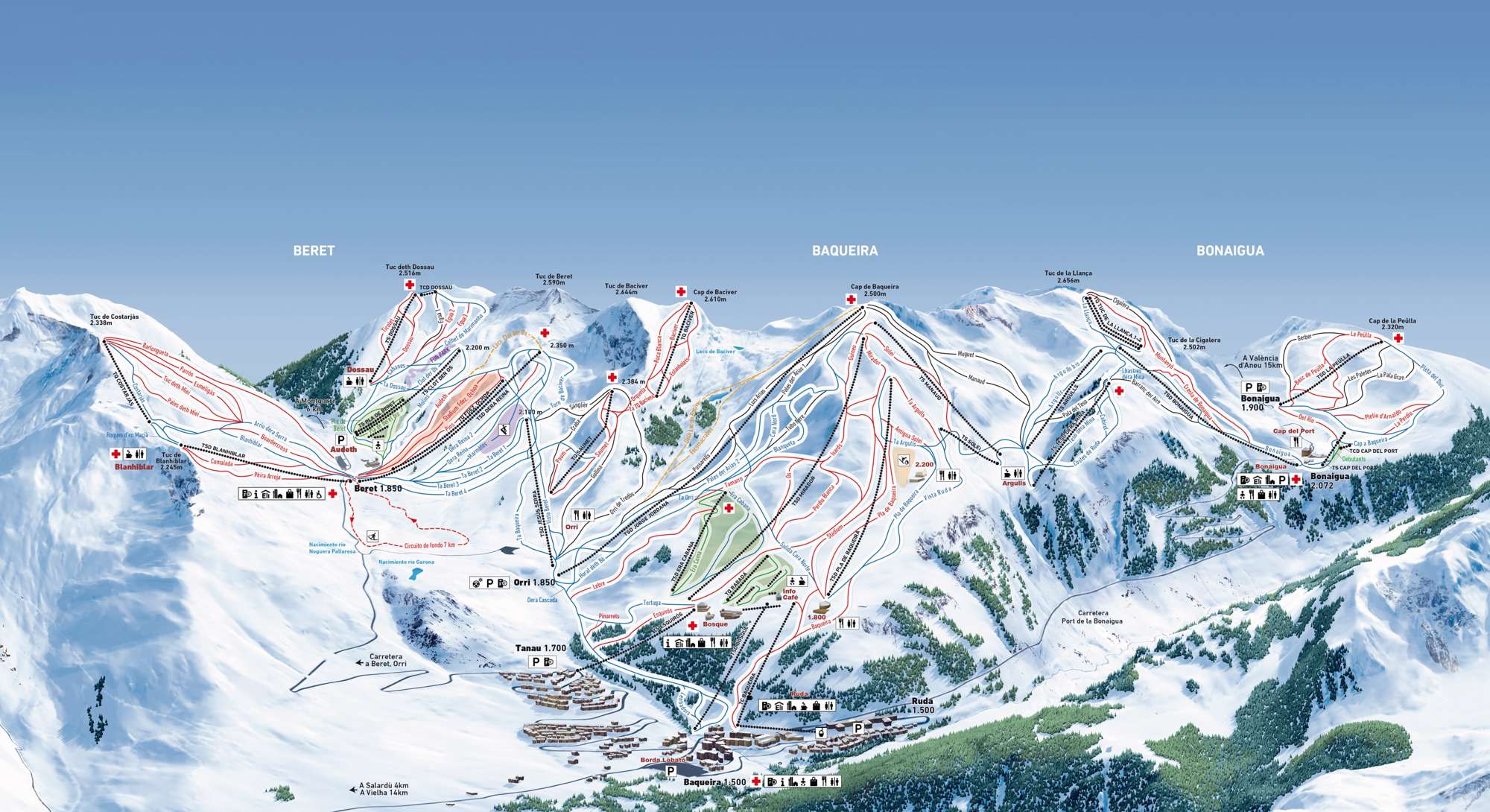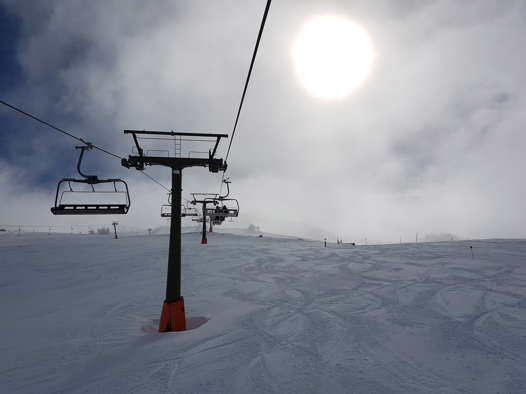 When we got up the next day we couldn't believe our luck, as we had woken up to another fresh load of powder (yes, three powder days in April!) so this was really going to be a day to remember. After a filling breakfast at the Chalet-Hotel Salana and a short walk to the ski lockers conveniently located at the base of the main lift station, we were ready to start what was going to be an epic day of skiing.
The 'espresso' ski hosting group from the chalet were well-matched, with a mixture of parents and adult children all getting on well, although often the younger generation were jumping on chairlifts together so as not to be stuck with the oldies, and achieving the top speed on their 'Ski Tracks' app seemed to be their main ambition!
We started off on the Era Cabana chairlift and headed over towards Beret via Orri, jumping on the Jesús Serra chairlift. From the top we motored down the Ta Beret 3 blue run - This had become a favourite run of ours, as earlier in the week before it snowed we had been some of the first people down it, with freshly-pisted corduroy which was hard-packed as it was early and still in the shade. Surprisingly for a blue run, this was where we all tracked our fastest speed, as there was very little friction, and I'm sure there weren't many turns either!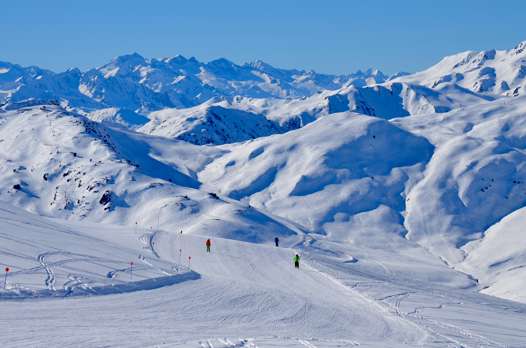 From Beret 1850, we took the Dera Reina chairlift up to get as close as possible to the Tuc de Beret and to bag our first peak of the day. After following another blue run (Vista Beret), we joined the Saumet lift, reminding the youngsters not to bomb all the way back down to the bottom and miss the lift, as one wrong turn could have meant us missing out on the final peaks later on. From there we skied across to pick up the Baciver drag-lift, which took us up to the Cap de Baciver at 2610m - Second peak done!
The snow there was superb and the slopes were almost empty, which made it feel like we had the resort all to ourselves. Some runs had not yet been pisted, which gave us all a bit of fun and some soft landings! After a few more lifts and descents, we regrouped at the Jorge Jordana chairlift - No time to stop at the Moët champagne bar today! Baciver is a great little area - steep in places, very quiet, and stunning scenery. We had skied more of it earlier in the week, so we didn't hang around, as today's mission was to get over to Bonaigua for a late tapas lunch.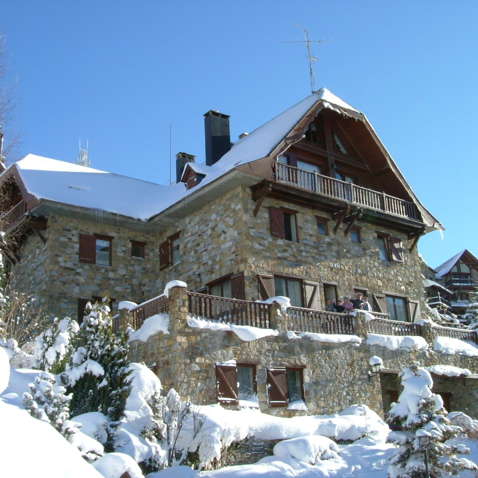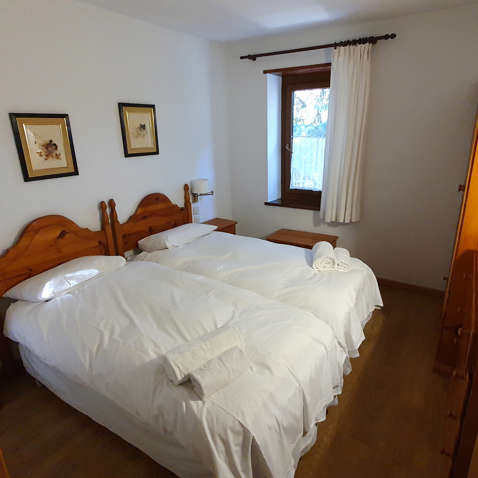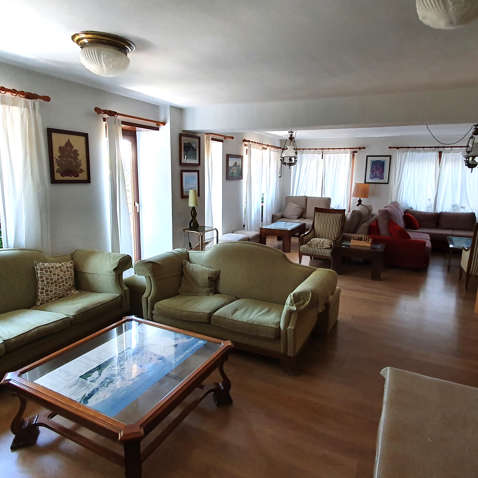 Prices From
£753
per person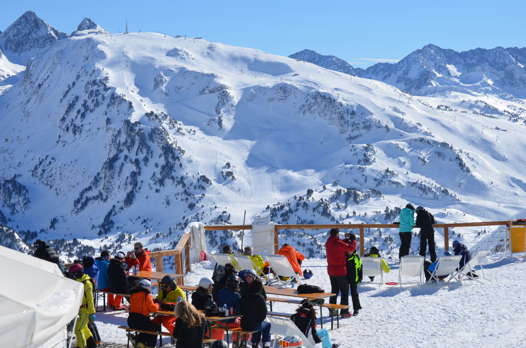 After heading up the Jorge Jordana lift (named after the founder of Baqueira's ski resort) to the Cap de Baqueira at 2500m, we had just enough time to snap a quick photo at the top of our third peak. But which run should we take down on this big open face? We all had our own personal favourites - Mine was the Stadium run with its fantastic sweeping corners, and just off the main track down, it's a sensational run at any time of the day.
After already conquering three of the peaks, we had earned ourselves a quick refreshment stop, and in the cafés you are spoiled for choice. The hot chocolate in Baqueira is something else - thick, indulgent, rich, divine, and delicious with a brandy or rum I'm told! My daughter and I were quite a fan of the local favourite, Caldo de Pollo, which is a warming chicken broth - perfect for when we needed to keep our energy up and keep skiing. Alternatively, you can always opt for a Café con Leche, or something a bit stronger.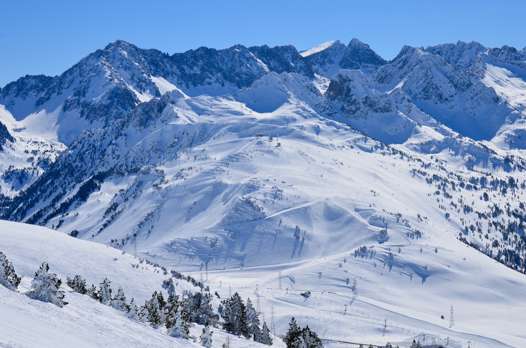 Setting off again, we went up the Mirador chairlift and down the Solei, a lovely steep red and one of the those runs you initially look over the top to see how steep it is before swooping down it. From here we headed out of the Argulls bowl with its sweeping blue runs and up to the Tuc de la Llança, the highest point at 2656m, with stunning views from our fourth peak. We then took the Muntanyo, which is a terrific run that swoops and rolls all the way down to Bonaigua - This was my daughter's favourite run and she was whooping all the way down!
We had made it to Bonaigua, so we just had one more peak to go. Working our way up and down and then up again, we made it to Cap de la Peülla at 2320m, with just enough time to grab a photo on top of the final peak - We had done it! We then had the choice of a cruisy red run, or the slightly more challenging La Pala Gran black run, which we all opted for and cruised back down to Bonaigua for a well-earned lunch. A delicious tapas meal was in order to top up our energy after a big day's skiing, which was a fantastic end to a great holiday.
Baqueira Beret has so much to offer. We travelled with another family and were a small group of mixed ability, from complete beginners to an old seasonaire! The beginner slopes of Baqueira are centrally based, which gives the more advanced skiers the opportunity to ski either side of the resort before getting back to join the beginners for lunch, if that's the plan. There is plenty of skiing in each individual area and you can find your favourite run in each, whether that's a perfectly groomed blue, a steeper rolling red, a challenging black, or even some of the easily accessible off-piste.
Offers & News
Get amazing special offers plus all the latest news and updates direct to your inbox