Overview
Key features
Ski lifts

6-minute walk

From the lifts

600m
Extras
Family rooms

Cosy lounge with bar

Log fire

Ski room

Hot Tub

Wi-Fi
What's included?
7 nights accommodation

Flights from Gatwick or Manchester

Transfers to and from resort

Chalet board

Complimentary wine with dinner

Complimentary ski hosting
From only
£789
per person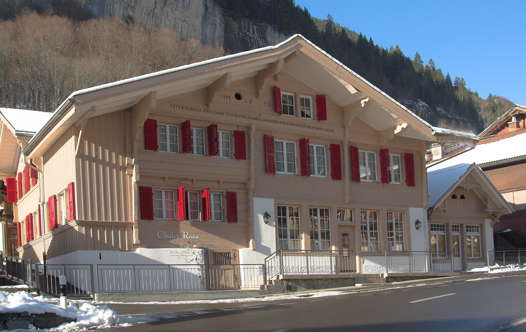 Chalet-Hotel Rosa
In keeping with its stunning surroundings, the Rosa is a traditional Swiss chalet-hotel right in the heart of the village, which is owned by Ski Miquel. Originally built in 1658, it was renovated for us in 2006, and to typically high Swiss standards.
The grand exterior is complemented by large bedrooms and a plush lounge with bar, but the drinks are reasonably-priced, and the atmosphere is as friendly as you'd expect from a Ski Miquel holiday.
The scenery around Lauterbrunnen is simply stunning, and the Chalet Rosa is located close to the famous Staubbach waterfall, which is 300m high and is one of the most prominent features of the valley.
Prices for Winter 2023/24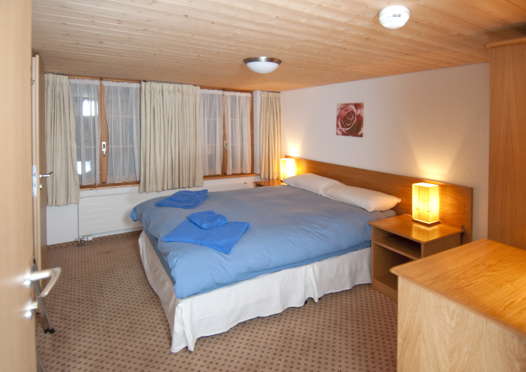 Room options
The Rosa has standard double or twin rooms, but it also has a variety of multi-occupancy rooms:
Triple room with 3 single beds (can sleep up to 3 people).
Family rooms with 2 single beds and a bunk bed (can sleep up to 4 people).
Room-sharing discounts
Discounts for 3rd & 4th sharers in a room:

£100 for adults
£150 for children (aged 5-16)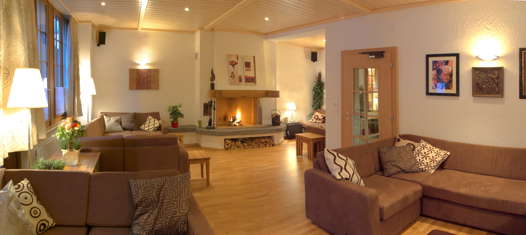 Lounge
With its open fire, cosy seating and wonderful views of the high valley side opposite, the Rosa lounge is the perfect place to curl up after a busy day on the mountain.
Our staff will be on-hand with canapés before the evening meal, and afterwards to share stories and tell you the exciting plan for your next day's skiing.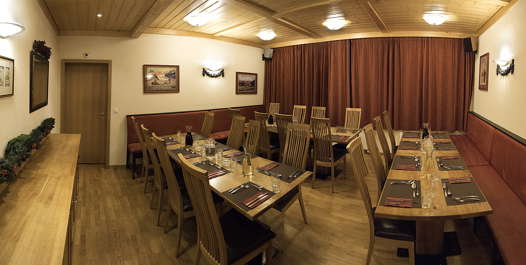 Dining room
The Rosa's dining room is warm and welcoming. Join your fellow guests for the evening meal and enjoy the company and conversation.
Our chef will prepare you a hearty 3-course dinner to refuel you after your day of exercise, and with the complimentary wine flowing you won't want the meal to come to an end!
We had our first Christmas in Switzerland with Ski Miquel. Another amazing week. Extra special over the Christmas week. Little touches like Santa Claus visit. It was the first week of the season the staff were amazing. Had to go high to get the good snow but it was worth it. It was just three of us this trip but that doesn't matter as the chalet crowd are always friendly. Will be booking next year's Christmas with Ski Miquel.
Another fabulous ski holiday with Ski Miquel
We had such an amazing time at Chalet Rosa at the beginning of March. We travelled with Ski Miquel. The staff were amazing, friendly, welcoming and helpful, the food was superb. The ski guiding was so enjoyable and enabled us to travel to the various ski areas without having to worry about how to get there, etc. The skiing itself couldn't have been better. Beautiful surroundings and plenty of lovely quiet slopes for every ability. Another very successful and enjoyable holiday with Ski Miquel. Highly recommended.
Ski Miquel Chalet Rosa Lauterbrunnen 2022
Just returned from another fab skiing holiday with Ski Miquel Holidays. First time I've been to Lauterbrunnen and we were well looked after by Andy and his team. All the food was beautifully cooked by Kate, and served by Romy and Becca, who always had a smile on their faces. Thanks Andy and Abbie for your expert ski guiding, and showing us around the amazing Jungfrau range of mountains, as well as coping with the ever changing conditions, including a sand storm from the Sahara Desert. Loved the singing entertainment on Thursday night in the chalet by several of the guests. It was a week full of laughs, fun and lots of food and drink… in between skiing. Thanks again.
Stunningly beautiful Valley
Just returned from a week away at Chalet Rosa, part of a group of 6. Staff were always smiling and helpful. Kate the chef consistently provided hot delicious food with a varied and tasty menu. The three girls were always helpful in the dining room and around the chalet. Andy was always enthusiastic, guided his ski group around the resort with enthusiasm and best tips to get the most of the vast beautiful area. Always checking we had enjoyed our day. Don't let the idea of having to jump on the train in the mornings deter you from booking here, the scenery is breathtaking! Comfortable and relaxed little bar just up the road and we had a great meal at the Steinbock Hotel on Wednesday night when the chalet staff have a night off. Ski area is superb and plenty of it!
This was our second holiday with Ski Miquel and certainly won't be our last. The chalet was charming; in a stunning location; and the staff were second to none. Andy, the manager and ski guide, was fantastic – friendly and good fun, and completely on top of all the organising, so that we didn't have to think about anything from the moment that he met us at the airport to when he dropped us off a week later at the check-in desk. The food in the chalet was outstanding, and plentiful; and on the Wednesday evening when the staff have their well earned day-off, there were a couple of good restaurants in the village just a few minutes walk away. The ski guiding, for us, is what makes the holiday really special. Andy's local knowledge is second to none, so we always skied the best areas to match the conditions. He was also able to manage to keep the thrill seeking teenager happy whilst still ensuring that the more cautious skiers were comfortable. Some people may be put off by the spread out nature of the ski resort, and the longer transit times to the ski areas. We found the ski train a chance to relax and soak up the stunning views, and the almost total absence of queues for ski-lifts more than made up for the longer morning journey. One of the highlights of the week was the chalet Curling competition in Wengen – whilst I don't think any of us will be entering the Olympics anytime soon, it was great fun, and at 15CHF each a bargain not to be missed. I wouldn't hesitate to recommend both Ski Miquel, and Chalet Rosa in Lauterbrunnen to anyone.
Fab Ski Holiday in Switzerland
Just returned from our second visit to Chalet Rosa in Lauterbrunnen and our fifth Ski Miquel holiday. We had a brilliant week with Andy and the team. We added my elder daughter at short notice. Vicki in the office sorted this out for us with no problem. The chalet is a short walk from the station / lifts. Ski Miquel have their own ski locker so you can store boots and skis there free of charge. The chef Kate did an amazing job catering for all sorts of dietary requirements including allergies, nothing was too much trouble. We went with Andy ski guiding every day. Andy made sure we all had a great time, changing the plan to fit with the weather conditions and visibility. On two occasions he stayed with us at lunch and guided us home. The ski area is vast covering Murren, Wengen & Grindelwald. We went curling one evening which was great fun and joined in the quiz night. My daughters stayed up for the games night, which they enjoyed. The guests were a mix of families and groups. Everyone was made to feel welcome. Some guests stayed in the hotel but joined us in the evenings and the guiding. All in all a fun action packed holiday with great skiing and great company. Thank you Andy, Abbie, Kate and Romy and all the team. Can't wait for the next holiday.
Where to start… we've had an absolutely amazing ski holiday. Chalet Rosa was perfectly located a short walk away from the train station up to Wengen and beyond, also the cable car up to Murren. THERE'S ALSO A PUB NEXT DOOR! The rooms were very comfortable, spacious and warm. Just what you need on a ski holiday! Showers were very powerful too. The team at the chalet were exceptional. They went above and beyond every day. They were hit with many challenges because of covid but they were great, every single one of them. They made sure that nothing hindered our holiday. Food was 5 star every night! Ski guiding was also second to none, Andy was very knowledgeable and full of banter. The ski resort was fab, weather was perfect and snow was of great condition. Most definitely recommend this wonderful chalet for your holiday. Thank you Andy and the girls, you made our holiday!
Great holiday, excellent service from Ski Miquel
Just came back from a week at Chalet Rosa and Ski Miquel didn't disappoint again. The chalet staff were brilliant and provided top service for a perfect holiday. Ski guiding was carefully planned and aligned to the groups' requirements, weather conditions, making sure we explored most of the pistes and sites in the resort. Food was something to always look forward to and the chef exceeded expectations with the pescatarian requirement, making it frequently more tempting than the general option. The chalet itself was very cosy and our hosts looked after us with adding a few additional options for an enjoyable curling team event plus arranging an extra get together events when possible. Great team, Chalet Rosa. Well done.
Stayed at Chalet Rosa as part of a large group and had an incredible week. This was my first ski trip and the team did a great job at making it one to remember. Andy, Abbie, Becca and Romy were friendly and welcoming and made sure we had everything we needed during our trip. I wouldn't have hesitated to stay another week!
Gorgeous hotel, fabulous location and fantastic company!
There was a large group of us staying at the Chalet Rosa this week. We had an amazing time all the staff were so willing to help us even with last minute requests! We have been to this chalet before and it's never disappointed. The food was lovely and everyone in our party had a wonderful time, we will hopefully be back next year. Thank you Ski Miquel!
What a wonderful holiday to Chalet Rosa Lauterbrunnen! Andy and the girls (Abbie, Romy, Becca and Chef Kate) were just fabulous. They couldn't do more for us and I can honestly say it was the absolute best holiday we've ever had. Andy was a superb host, the food was amazing and the chalet couldn't be faulted. Ski guiding was such a bonus for us and the pub next door was evil genius!!!! Lots of fun and great banter – the perfect holiday! Skiing was amazing, Swiss travel links to the pistes couldn't be faulted. Andy arranged extra optional activities such as curling, which was great fun. We've made some lifelong friends and it definitely will not be the last Ski Miquel trip we take!
The best ski holiday ever
Chalet Rosa is a large chalet in Lauterbrunnen, a central location in the Jungfraujoch saddle in the Bernese Alps in Switzerland. While the chalet is large, it's cosy, warm as well as clean, well kept with comfortable beds and hot showers. The food was amazing during our stay. From hot breakfast options to ski tea (cake!!) and delicious three course meals for dinner (as well as the cheeseboards!). Nice one chef – and nice one Abbie, Becka and Romy who also worked very hard in the kitchen too. The bar in the chalet is very well stocked and by far and away the most reasonable bar in Lauterbrunnen. We loved sitting back, relaxing in front of the open fire and enjoying a few drinks with the other guests (who quickly became our afternoon skiing companions and friends). The ski guiding from Andy and Abbie is second to NONE. An absolutely superb way to enjoy your skiing and waste no time working out where to go and when. Split into two groups – the ones that like to ski faster and those that like the scenic routes, the rhythm of the groups is based around you and it's the best way to ski around and see the stunning scenery. Andy and Abbie, you smashed it out of the park. Thank you for your excellent guiding. We all had so much fun. Overall this was an exceptional ski holiday, and we've been on a lot. If you want great value for money, a huge amount of options for skiing, great food, drink and company, then come here. Thank you to Andy, Abbie, Becka, Romy and Kate for a truly wonderful skiing holiday. It was absolutely perfect.
Fantastic week and great company
Had a fantastic week at Chalet Rosa at the end of January. Whilst the weather tried its best to restrict the skiing we did; thanks to the efforts of our two ski hosts Andy and Dee we managed to make the most of the opportunities provided. This chalet is situated in the middle of a magnificent valley with stunning views and a nearby waterfall. The rooms were very comfortable and the communal areas warm and inviting. The food was excellent and the copious wine quite palatable. It also boasts the cheapest bar in the vicinity charging only 6CHF for a gin and tonic compared to the 17CHF I was charged in a bar in Wengen. The staff did their utmost to make our stay enjoyable and even managed to put up with the idiosyncratic and at times raucous behaviour of our group. Andy apart from being an amiable ski guide also demonstrated his flair for poetry with his recital of a ditty recounting our respective adventures and toils during the week. All in all a fantastic enjoyable week and I would highly recommend this chalet.
Brilliant holiday thanks to Andy, Dee and the chalet team
Another top quality skiing holiday with Ski Miquel. Andy & Dee are excellent hosts supported by a great team. Skiing was great fun, made even better by the expert guiding. The chalet was clean, food excellent, staff friendly and extremely helpful. You really can't go wrong choosing Chalet Rosa as your destination. Amazing week guys, brilliant :0
6th Visit here and still love it
As always top service from all the chalet staff, Andy & Dee as helpful as ever and the food was top class and plentiful as usual (thanks Ollie). The chalet girls were lovely and were always very helpful. It is great to have Andy & Dee guiding as you see so much more of the area being taken to the best area for that day weather dependent. The ski hire shop that Ski Miquel uses provide you with good quality equipment. The hot tub is a bonus to help the body recover from a day on the piste. If you want ski in ski out this is not the resort for you as there is quite a bit of travelling to get to the piste (but being in Switzerland everything runs like clockwork), once there the scenery is stunning. Thanks for a great holiday. See you again soon.
This is the second time I've used Ski Miquel, and the break was exceptional in all ways. Arrangements were seamless from the start, and chalet managers Andy and Dee's outstanding local knowledge was a real bonus. Chef Ollie, assisted by Alice and Iona, provided outstanding meals and a wonderful, relaxed atmosphere in a spotless chalet close to both skiing locations and other worthwhile places to visit. They excelled all expectations. I would recommend the holiday - we will be back!
New Year Family Ski Holiday
Just returned from a fantastic and memorable ski holiday at Chalet Rosa with Ski Miquel. This was the first time we have travelled with this company and it definitely won't be the last. From the moment we arrived at Geneva to leaving the staff were amazing. Although only breakfast and evening meal is provided we were given a bowl of soup on arrival in the afternoon which was much appreciated after such an early start. Our ski hire was sorted soon after and stored in the lock up by the station. The food was excellent especially the New Year's Eve buffet. We enjoyed the quiz, curling, and the party atmosphere at New Year. The chalet team were always smiling and happy to help. We found the Ski Guiding led by Andy and Dee, the chalet hosts, an excellent way to quickly become familiar with the area and take the hassle away from ensuring you make the most of your holiday. The chalet was cosy and warm after a day on the slopes with a welcoming afternoon tea and the option of relaxing those weary ski legs in a hot tub. A superb holiday! Thank you Andy, Dee, Iona, Alice and Ollie.
Resort features
4 different ski areas

42 ski lifts

UNESCO World Heritage site

Beautiful Swiss village

Recent major lift upgrades

Mountain trains

Great value-for-money

Ski the legendary Lauberhorn

Also great for walking/hiking
Connections
Airport

Geneva (224km)

Train station

Lauterbrunnen (0km)
Altitude
Minimum altitude

800m

Maximum altitude

2970m
Ski slopes
All ski slopes

211km

Blue slopes

83km

Red slopes

95km

Black slopes

33km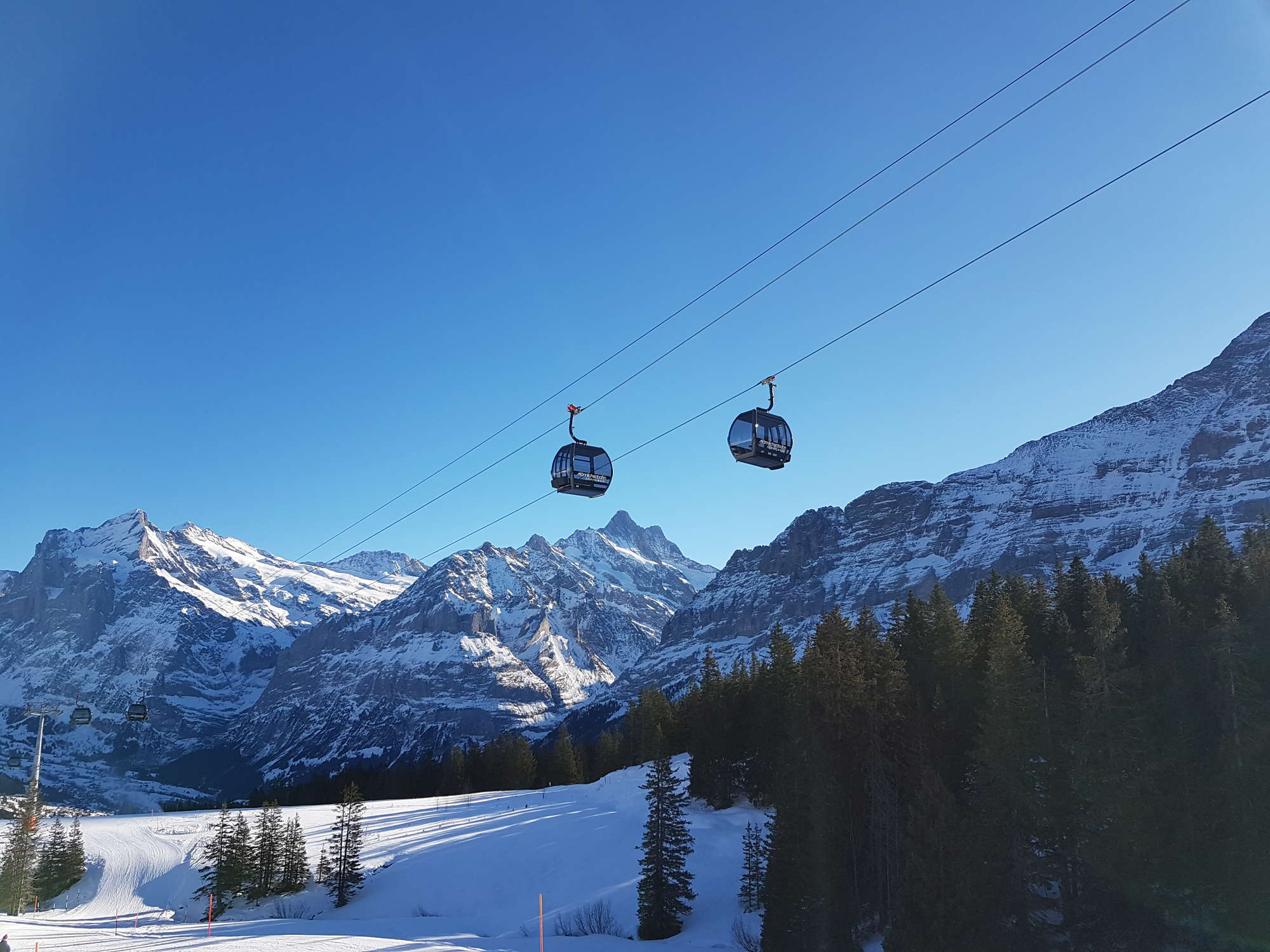 What is the address of the Chalet-Hotel Rosa?

Chalet Rosa, Beim Alten Schulhaus 428, 3822 Lauterbrunnen, Switzerland
What are the entry requirements for Switzerland?

The best source of up-to-date information on entry requirements is the Foreign Office advice on the UK government website, as this is regularly updated. For further information, please see our 'Travel Information' page - The link is in the footer of our website.
Which airport do you fly into?

For Lauterbrunnen we fly into Geneva airport.
How long is the transfer from the airport to the resort?

The coach journey from Geneva airport to Lauterbrunnen normally takes around 2.5 hours.
How close is the chalet-hotel to the ski lifts?

It is only around a 6-minute walk from our chalet-hotel to the ski lifts.
Where can I store my skis and boots?

You can store your skis and boots right next to the main lift station for free. Alternatively, you can also store your equipment in the ski room at the chalet-hotel, if you prefer.
Can I get cheaper equipment rental for children?

Yes, it will normally be cheaper to purchase equipment hire for children directly from the rental shop in resort.
Do children get cheaper lift passes?

Yes, children will normally be able to benefit from a cheaper lift pass. This is dependent upon their age, so please call us for further details.
Do seniors get cheaper lift passes?

Yes, seniors will normally benefit from a cheaper lift pass. This is age-dependent, so please call us for further details.