Overview
Key features
Ski lifts

3-minute walk

From slopes

250 metres
Extras
Family rooms

Cosy lounge

Bar

Log fire

Wi-Fi

Ski storage by the slopes
What's included?
7 nights accommodation

Flights from Gatwick or Manchester

Transfers to and from resort

Chalet board

Complimentary wine with dinner

Complimentary ski hosting
From only
£697
per person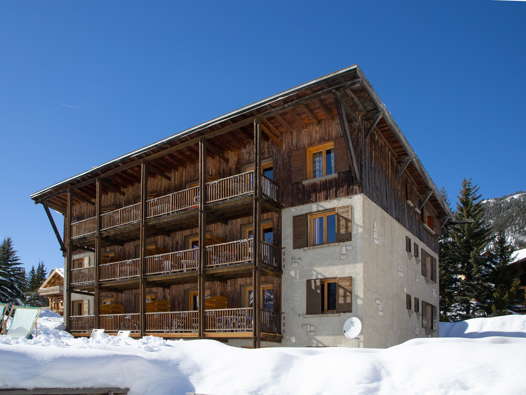 Chalet-Hotel Lucille
The Lucille is one of our most popular chalet-hotels and it generates a great response from our guests, with many wanting to return again the following season!
Excellently located in a quiet position just a few minutes' walk from the main village centre and the ski lifts, the Lucille has a large dining room and a spacious bar and lounge area.
All the bedrooms have en-suite shower rooms, and many also have views over the slopes. The bar is always well-stocked, and the prices are cheaper than you'll find elsewhere in the resort.
Prices for Winter 2023/24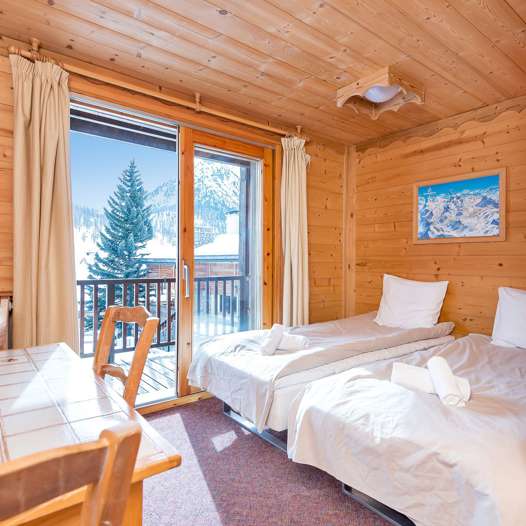 Room options
The Lucille has standard double or twin rooms, but it also has various multi-occupancy rooms:
Triple rooms with 3 single beds (can sleep up to 3 people).
Family rooms with 2 single beds and a partitioned bunk room (can sleep up to 4 people).
Family rooms with 3 single beds and a partitioned bunk room (can sleep up to 5 people).
Family suites with 2 separate twin rooms and a shared WC and shower room (can sleep up to 4 people).
Room-sharing discounts
Discounts for 3rd/4th/5th sharers in a room:

£100 for adults
£150 for children (aged 5-16)
This is except for the family suites, where each guest will receive a reduction of £40 if all four beds are occupied.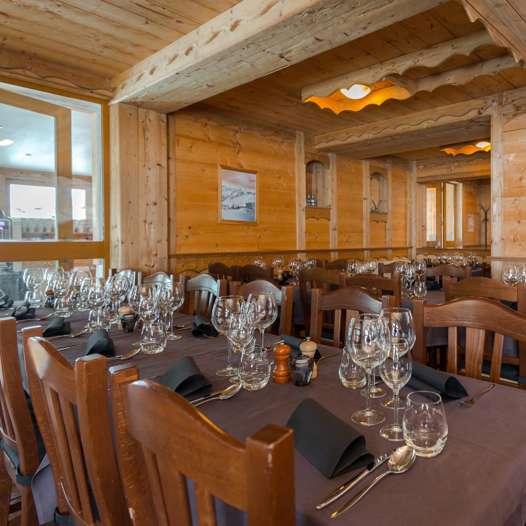 Dining room
With an open fire and rustic French chic of thick stone walls and pinewood, looking out over the village towards the ski slopes, the Lucille dining room is the perfect place to enjoy your hearty meal after a day out on the mountain - It's a truly Alpine experience!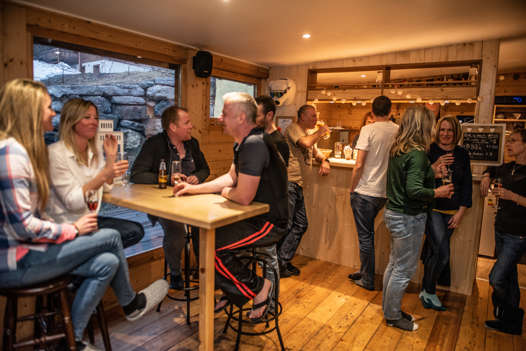 Lounge & Bar
The bar at the Lucille was hand-built for Ski Miquel and offers a cosy setting with fantastic views of the mountains and an adjoining lounge area. It's the perfect place to sit in the evening and watch the piste-bashers grooming the slopes ready for your next day's skiing.
It's spacious and comfortable, and as always the Ski Miquel bar is the cheapest in town! Why not try the local aperitif, Génépi?
Wow! What an amazing first ski trip we had in the safe hands of Team Lucille at Ski Miquel! The wonderful staff could not do enough to ensure we had a warm welcome and everything we needed for our stay. The meals were delicious and evenings in our cosy chalet were an absolute delight. The Ski Miquel set up is clearly a well oiled machine and we had the best time as part of a large group. The accommodation was clean and location was brilliant – easy reach of everything in the heart of Montgenèvre. The scenery is STUNNING! Some of the experienced skiers really enjoyed the guide service which is an added bonus and I hope I can go with them next time. The chalet's own bar was great value too! Big thanks to Max, Hugo, Aggie and Co. for an amazing experience. It was so good we've booked again for next year and hope to see some familiar faces x 🙌 👏
1 week skiing with Ski Miquel. When we rolled up at the hotel Lucille we couldn't believe it, a lovely wooden chalet with fabulous views over some of the pistes we were to explore for our first time. Great facilities, food and drink, and lots of help and advice from hosts and returners. So good we're going back again this year!! Says it all really? Just do it.
Our group of 23 just about filled the chalet but we did meet two youngsters who were also staying and everybody got on like a chalet on fire. Adam and Mel, hope you haven't gone home scarred for life😂! The team looking after us were fantastic. Andre, Sinead, Carlos, Adam and Iga. Breakfast was from 8 to 9 with the keen skiers down first, followed by the B team, then coming up at the rear the non skiers. Doesn't make any difference. We all got a beautiful breakfast to set us up for the day. Do what you want after that then afternoon tea was served at 4.30. Tea/coffee and cake. Go and get changed/showered before 6.30 when the bar opens and you can talk about what you've got up to through the day or play cards/board games until the canapes arrive at 7.30. Dinner is served at 8, and it was gorgeous. Usually 3 courses followed by cheese if you had room! Compliments to Spanish chef Carlos! On Thursday the staff get a night off, and we had to eat out. Makes you appreciate what we had at the chalet. No comparison. The whole week was brilliant. Blue skies, snow, good company and a superb team of people to look after us. What more would you want? Thank you everybody.
Skiing holidays do not come better than this
We have worked our way through the Ski Miquel brochure over the years and have stayed with them twice before at Montgenevre, although this was our first visit to their new chalet, Lucille. The chalet itself has a large lounge with plenty of comfortable seating and a well stocked bar. The dining room is also pretty spacious, and as the chalet was not at full capacity, there was masses of room. Turning to the bedrooms, we were lucky in that we had family room with three beds plus an annex with two further bunk beds. As there were just the two of us there was more than enough space. The rooms are comfortably furnished and warm, with their own en suite with plenty of hot water, critical after a long day on the slopes. One word on the food, brilliant! There a big buffet breakfast (cereals, cheeses, ham, breads, boiled eggs, etc) plus one or two different hot options each day (fried or scrambled eggs, pancakes, porridge, etc). As you come off the slopes there are home made cakes or biscuits waiting, while at 7.30 tasty canapes are served. However it is the evening meals that stand out with three courses plus cheese plus unlimited wine. The food is plentiful, tasty and well presented so hats off to the welsh wizard in the kitchen! A real plus point of the Ski Miquel hols is the guiding which is a great way to discover the resort without getting the map out. Skiers can chose an espresso group which goes faster with less stops, or cappuccinos who take things a bit more leisurely. The two groups always meet up for coffee and lunch, so it's a really sociable way of skiing. Underpinning everything is chalet manager Emma and her wonderful team. As mentioned, we have skied with this company numerous time and they do have a knack of finding the right people to look after their guests. However, this year the hosts were just exceptional and I cannot speak highly enough of them. All in all, a great week of skiing and I have no doubt we will visit this resort again.
One of the best ski trips ever!
I had travelled with Ski Miquel before so I knew what to expect. A nice cosy week with fantastic food thanks to the ever smiling chef Nigel. Great chalet hosts Emma & bearded Mike. Plus chalet staff Pippa, Vereley & little Mike who were always super friendly and helpful. Our room was a decent size, having 3 beds for the 2 of us, a nice balcony & a very small but functional (slightly dated) bathroom with a shower & heated towel rail. The chalet was only a short walk away from the ski shop where Ski Miquel have a private locker room with heated boot warmers. This was also very conveniently located for the slopes just across the road. But the best thing of all was the atmosphere. It was a super crowd of people staying the week we were there, all quite like minded ski enthusiasts, with a wicked sense of humour! Will definitely be working our way through the various resorts in the Ski Miquel brochure and can't wait to do it all again next year.
Just spent a week with Ski Miquel in Montgenèvre. This was our second trip and we will definitely be booking again for next year. The chalet hotel feels like a cosy chalet rather than a hotel and the service you get is what you would expect in a private chalet too. The photo shows a large building but only the bottom 2 floors are Lucille so don't be put off by its size. The food was fantastic on both visits but this year Chef Nigel made every meal amazing. He also made us sandwiches to take to the airport with us which was a lovely touch. The afternoon cakes were different every day and really lovely. The breakfast options were also cooked to perfection! He is a real credit to Ski Miquel and I hope he is there next season. The other staff are helpful and thoughtful and really approachable which is lovely. The resort itself is great – lovely and quiet. The ski guiding from the staff is so useful and you have a choice of two groups, the cappuccinos or the espressos. The staff are great guides and explain every step of the way. I really recommend this company and I'm looking forward to seeing more of their resorts. Thank you everyone.
A fabulous stay - thank you!
This was our first Ski Miquel holiday and we're now converts! We have felt thoroughly spoilt this last week, staying in Chalet-Hotel Lucille. Emma was just brilliant in ensuring that everything ran like clockwork and she and Mike were so good at ski-guiding, catering for both the 'cappuccino' and the 'espresso' skiers. The food was superb and Nigel, the chef, is a real gem. Fabulous cake in the afternoon and then dinner in the evening was always amazing. Thanks also to Vereley, Pippa and Mike who worked so hard in looking after us and always being so helpful and cheerful. We had such a lovely time, we felt like we were staying with friends, not chalet staff! Great snow conditions and excellent weather just made it!
Another Winning Week with Ski Miquel!
Chalet Lucille proved a relaxing home from home for our party of 22 over Feb half-term. Set a few metres uphill from Montgenevre's main street and nursery slopes, the chalet was ideally located and fitted the Ski Miquel model well. Although the bedrooms were on the small side, the dining room and (cheap) bar were just right, with enough space to relax in an informal atmosphere. What keeps us coming back to Ski Miquel are their keen prices, good resorts and great staff – this year proved no exception. Montgenevre catered well for our mixed group, especially the beginners who revelled in the good snow and long green runs. Whilst the lift system is slow in places, queues were almost non-existent and the lift pass was relatively cheap. Under the experienced leadership of Emma, the Ski Miquel team were excellent, remaining relaxed, cheerful and efficient during the busiest week of the season. Special mention to Mike S for his bar-tendering skills, Mike B for his ski guiding, Nigel for his outstanding food and Pippa & Vereley for their ever-smiling service. Thanks to you all for making our week so enjoyable. We'll be back with SM next year and for as long as you'll have us!
We had a fantastic week with Ski Miquel in Montgenevre. As ever with this type of holiday it's all about the staff, the entire team were top notch. Thank you to Emma, Mike S, Mike B, Vereley, Pippa and Nigel for making our stay so enjoyable. The food was fantastic (thank you Nigel). The ski guiding was a great way to discover the mountains and the trip to Italy was well organised and a great way to discover skiing in Italy. We will be booking again next year for sure, returning for our third trip with Ski Miquel in Montgenevre.
The chalet was perfect, very spacious and comfortable. Resort manager, Emma, and all the chalet hosts, Mike B, Mike S, Vereley and Pippa looked after us very well, they were friendly, welcoming and genuinely seemed to want to do everything they could to make our stay great. Chef, Nigel, did a brilliant job of ensuring we were very well fed all week. All the food was absolutely delicious and beautifully presented. Finally, the ski hosting was amazing! This is such a wonderful benefit that Ski Miquel provide. Emma and Mike B looked after us really well on the slopes. I have holidayed with Ski Miquel before a few years ago (Serre Chevalier), I was impressed before and I was equally impressed this time too. I would definitely recommend and I hope to ski with them again in the future.
Best ski trip in a long time!
I sincerely take my hat off to the entire Ski Miquel team at Chalet Lucille in Montgenèvre, who went above and beyond to make sure our ski holiday was everything it needed to be. My wife and I enjoyed a full week of great hospitality, food, skiing, drinking, and relaxing in equal measure. A very professional, capable, and approachable team. Thank you very much Emma, Mike S, Nigel, Pippa, Mike B, and Vereley!
Just got back from a week at Chalet Lucille in Montgenevre. Lovely big room with balcony overlooking the slopes and mountains. Comfortable lounge area with bar. The staff really looked after us and made the whole week fun. The food was excellent. Ski guiding made the whole week very relaxing and gave us an opportunity to ski the whole of Montgenevre area including Claviere plus a trip to Sauze d'Oulx. Fantastic slopes and snow conditions. Thank you to Emma, Mike, Mike, Pippa, Vereley and Nigel for making it a fabulous holiday.
Resort features
Part of the vast 'Milky Way' ski area

31 lifts

Close to the heritage town of Briançon

Perfect for families

Short transfer time (1.5 hours)

Ski over into Italy for lunch!

Luge ride

Snow-shoeing

Off-piste ski guiding available
Connections
Airport

Turin (110km)

Railway station

Oulx (20km)
Altitude
Minimum altitude

1860m

Maximum altitude

2700m
Ski slopes
Total 'Milky Way' ski area

400km

Monts de la Lune - Green slopes

9

Monts de la Lune - Blue slopes

22

Monts de la Lune - Red slopes

44

Monts de la Lune - Black slopes

16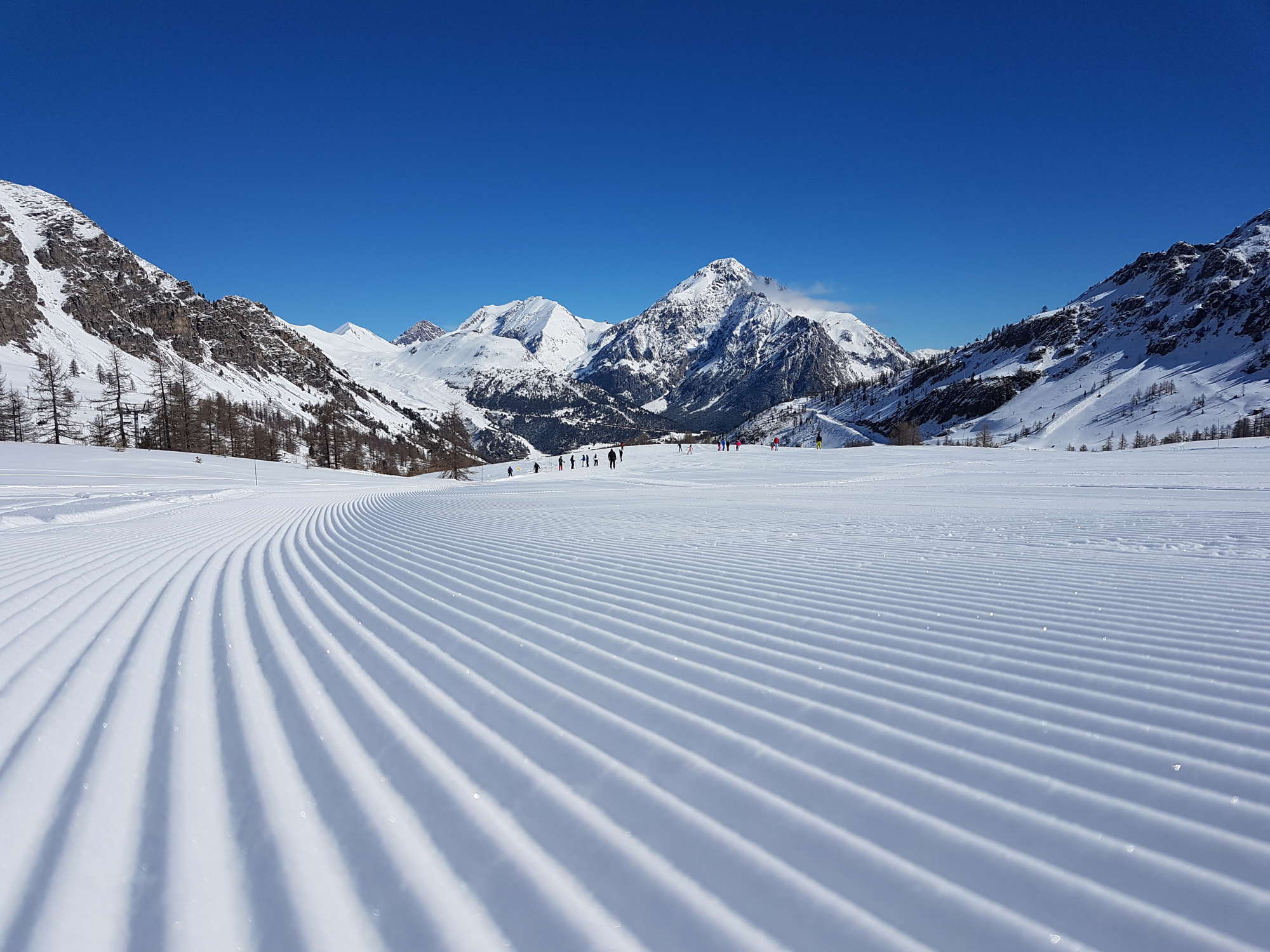 What are the addresses of the chalet-hotels in Montgenèvre?

Chalet-Hotel Lucille - RDC Bas, Plein Sud, Rue de la Durance, 05100 Montgenèvre, France / Chalet-Hotel Elise - Hotel Le Boom, 398 Rue de l'Église, 05100 Montgenèvre, France
What are the entry requirements for France?

The best source of up-to-date information on entry requirements is the Foreign Office advice on the UK government website, as this is regularly updated. For further information, please see our 'Travel Information' page - The link is in the footer of our website.
Which airport do you fly into?

For Montgenèvre we fly into Turin airport (in Italy).
How long is the transfer from the airport to the resort?

The coach journey from Turin airport to Montgenèvre normally takes around 1.5 hours.
How close are the chalet-hotels to the ski lifts?

The ski lifts are around 3 minutes' walk from Chalet-Hotel Lucille, and only around 2 minutes' walk from the Chalet-Hotel Elise.
Where can I store my skis and boots?

You can store your skis and boots at the rental shop in resort, which is only a few minutes' walk from our chalet-hotels. Alternatively, you can also store your equipment back at the chalet-hotel if you prefer.
Can I get cheaper equipment rental for children?

Yes, it will normally be cheaper to purchase equipment hire for children directly from the rental shop in resort.
Do children get cheaper lift passes?

Yes, children will normally be able to benefit from a cheaper lift pass. This is dependent upon their age, so please call us for further details.
Do seniors get cheaper lift passes?

Yes, seniors will normally benefit from a cheaper lift pass. This is age-dependent, so please call us for further details.
How close is the spa to the chalet-hotels?

The Durancia spa is only around 10 minutes' walk from our chalet-hotels and is worth a visit.