Overview
Key features
Ski lift

5-minute walk

From slopes

500m
Extras
Family rooms

Cosy lounge with log fire

Traditional Stubl bar

Ski room

Boot heaters

Wi-Fi
What's included?
7 nights accommodation

Flights from Gatwick or Manchester

Transfers to and from resort

Chalet board

Complimentary wine with dinner

Complimentary ski hosting
From only
£599
per person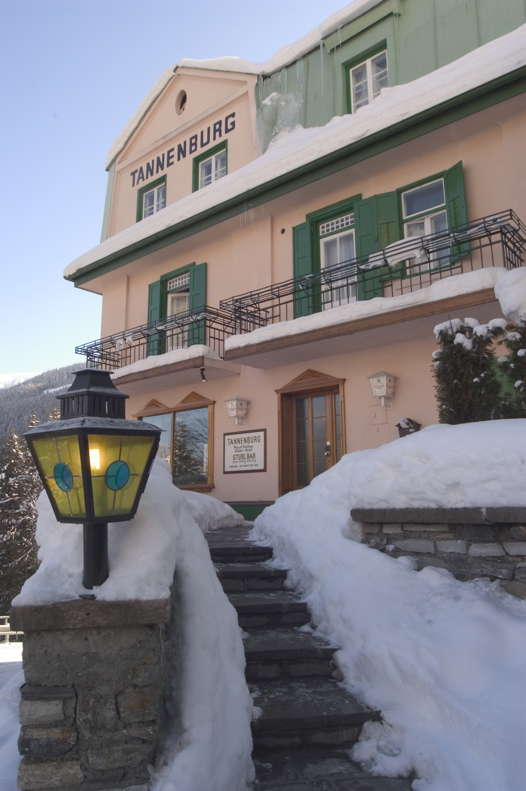 Chalet-Hotel Tannenburg
A classic Austrian building, the Tannenburg is our own chalet-hotel and we believe it's the only one in the Gastein valley offering inclusive holidays, making it a rare good-value find.
It has a central location in the heart of Bad Gastein, in a nice quiet spot just below the top level of the village, so it's convenient for the ski slopes, the local shops and the thermal spa baths.
The Tannenburg has been renovated to the usual Ski Miquel standard and all the guest bedrooms have en-suite bathrooms.
It has a sociable private guest lounge and a separate dining room, plus a public bar area, and a ski storage room with heated boot warmers.
Prices for Winter 2023/24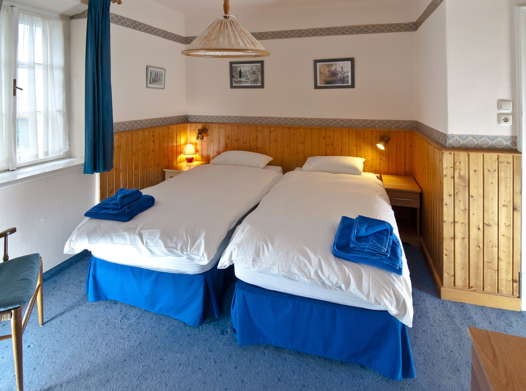 Room options
The Tannenburg has standard double or twin rooms, but it also has a number of multi-occupancy rooms:
Two triple rooms, each with 3 single beds (can sleep up to 3).
Linked rooms (family suite) - One room with a single bed and bunk bed, shower room and WC, and linked to another room with 2 single beds (can sleep up to 5 people in total).
Room-sharing discounts
Discounts for 3rd & 4th sharers in a room:

£100 for adults
£150 for children (aged 5-16)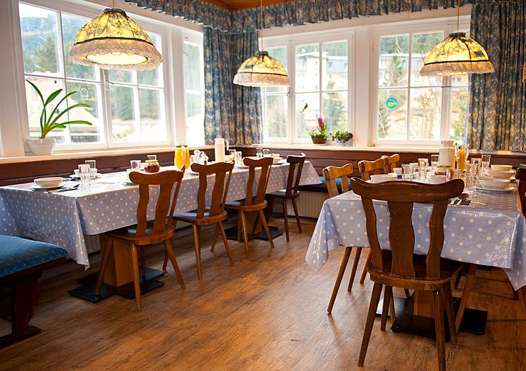 Dining room
The dining room in the Tannenburg is open and spacious, with views overlooking the Gastein valley, which is ideal for getting you in the mood for your next day's skiing whilst eating your breakfast, or recounting your day's adventures on the mountain over dinner.
Lounge
The lounge at the Tannenburg is open but still cosy and warm, with a log fire and stunning views over the Gastein valley.
It's the perfect spot to relax with a beer or a G&T, whilst canapés are brought to you by our Chalet Hosts before the evening dinner service.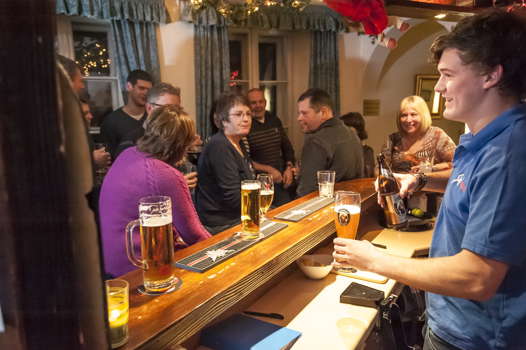 Bar
The Tannenburg has its own traditional Austrian 'Stubl' bar, where you can enjoy low Austrian prices on everything from schnapps and cocktails to the fine local draft beer.
The bar is also open to the public until 11pm and we often have some of the local ski instructors dropping by for a couple of beers and a game of 'Nageln', which involves trying to hit nails into a wooden stump with the wrong end of a hammer!
Great stay in the Chalet with Ski Miquel
Just had a week with Ski Miquel staying at this chalet. We had a fantastic week which can be put down to the staff under the great management of Idan. He was also an excellent ski guide for the week. The skiing and the town of Bad Gastein are brilliant and there are lots to see and do either in town or by taking the train into Salzburg. A big thank you to you all!
Lovely staff and a fantastic week
We have just returned from a week at the chalet-hotel Tannenburg in Bad Gastein. We had a fantastic week and really enjoy the relaxed chalet-hotel model Ski Miquel make the most of (this was our fifth stay in a Ski Miquel chalet). The chef Paulo and his assistant chef made fantastic meals all week and really went out of their way to make good delicious food for our daughter which she was able to have earlier as waiting until 8pm would have been too long for her. Paolo was also lovely to chat to over cake after a long day skiing. Idan, Iona, Rebecca and Tom were very friendly, helpful and generally pleasant to be around each day. We had a few beginners and a child so we didn't join the ski guiding this year but the other guests seemed to really enjoy it and only had good things to say about the guides and the trips to Sportgastein and Dorfgastein. Wednesday is the night off - we took the chair lift to the belle alm for fondue which we recommend but booking ahead is necessary and the Felsentherme spa is worth a trip, discount is available if you book 3 trips at once.
Wow amazing stay and skiing with Ski Miquel! Shout out to Manny, Leah and Patrick, hands down the best chalet staff around! Always looked after us and recommended the best nights out!! Such a friendly group!! The chalet was perfect for a big group of family and friends, really interactive stay and perfect location to slopes and access to buses to other resorts! Would definitely recommend.
This was another great skiing holiday with Ski Miquel, staying in the characterful Tannenburg. We first visited in 2018 and were so impressed that we returned this year and, again, were not disappointed. Dave, our resort manager and ski host, was brilliant as usual and made sure that everyone settled in quickly and were well looked after, both in the chalet and on the slopes. The skiing here is extensive and varied and under Dave's expert guidance we covered the pistes in Bad Gastein, Graukogel, Bad Hofgastein, Dorfgastein, Angertal and Sportgastein. Brilliant. A special mention for Ashley and her team, who worked so hard to make sure that the food at the Tannenburg was top class, with tasty and plentiful breakfasts, afternoon tea and cake for those who could tear themselves away from the apres-ski and excellent three-course dinners plus cheese and wine. Many thanks to all the staff. All in all this was a fantastic week, made all the more fun by a great crowd of guests who gelled from day one. Definitely a holiday to remember.
Great trip made even better by the people
This was our family's fourth trip with Ski Miquel to Bad Gastein. It was the first week of the season, so snow can be a risk. There was an excellent team led by Dave, ably helped by Ashley, Ben, Nadine and Fern. Food was especially good. Ski Miquel works with friendly guests in a cosy setting. It is the best value skiing holiday that we know. Keep up the good work.
An update to my previous review
A return trip to the Tannenburg and much of what I wrote last time is still in place. But some recent changes which are worth noting: 1. The menu has been overhauled - food was always good but this time the recipes seemed more adventurous - lamb tagine, cajun salmon and fillet steak (on the last night) were all excellent and a very welcome addition was the night of local cuisine - Goulash Stew with spaetzle and local veg and Apple Strudel went down really well. (Great job, Ashley!) 2. Several new lifts have opened since my last visit which make getting round the ski area much quicker than previously. SO, once again, thanks to Manager Dave, Ferne and Nadine for chalet support and Ben for manfully running the bar despite heavy pressure (!)
Brilliant week all round!
This was my first holiday with Ski Miquel and I wouldn't want to go with anyone else now! We had the best week in the Tannenburg with our lovely friendly hosts and brilliant rep Dave. The food cooked by the chef Josh was amazing! Every night was totally delicious, good portion sizes and as a veggie rather food was tasty and creative. The accommodation itself was great too, really quiet so slept like a log and no issues with hot water which we have done in previous chalets. Bad Gastein itself was really cool, some great bars including the Chrystal Bar where we enjoyed live music and some very fun apres! The ski guiding was my most favourite thing about this holiday. I have never had it before and it was a total game changer! Dave tailored the days around the weather and every day skiing was well organised with a scheduled coffee and lunch break to avoid the crowds and tables booked for us, we didn't have to worry about a thing! He explained any tricky bits of the mountain and just made the days so enjoyable. It was also nice touch that he sat with us at dinner, if we could request him on every Ski Miquel holiday from now on I would! Tommy, Flo and Georgie all made us feel very welcome too, never making us feel we were a nuisance (which I'm sure we were!) All in all a fab week with no complaints!!
This Chalet-Hotel is run by Ski Miquel. This is the first time we have used them and what a great, all inclusive little company they are. The team in the UK office were all friendly and efficient and the team running the hotel were great and looked after us well for a week. If you're travelling solo, as a couple, or in a group, this company offers good social skiing options and a very social hotel environment. I wouldn't hesitate to book with them again, in fact I have just tried to travel in a few days time but they don't have availability, which is my loss!
Great week with Ski Miquel
We have just returned from a fab week at the Tannenberg with Ski Miquel. We travelled as a large group of family and friends, booking the whole hotel. The team there were brilliant, very kind and helpful, and clearly work extremely hard. The hotel itself could perhaps do with a little updating in places but it was clean and comfortable and that's all we needed. The food was lovely and we all looked forward to dinner each evening. A big shout out must go to Dave and Tommy who took us ski guiding every day. This enabled us to really get the most out of our week, booking lunch at their recommended restaurants was also a huge bonus, and saved us wasting valuable ski time ;) Bad Gastein is a lovely resort, the spa was great for a bit of relaxation, my little baby boy especially loved it! Thankyou Ski Miquel for a great week, already looking forward to next year!
Resort features
5 different and diverse ski areas

43 lifts

Historic spa town

Short transfer time (1.5 hours)

Classic Austrian skiing

Recent major lift upgrades

Longest run in the Eastern Alps!

Thermal spa baths

Lively après-ski
Connections
Airport

Salzburg (96km)

Train station

Bad Gastein (0km)
Altitude
Minimum altitude

1000m

Maximum altitude

2686m
Ski slopes
All ski slopes

200km

Blue slopes

66km

Red slopes

105km

Black slopes

8km

Itinerary runs

21km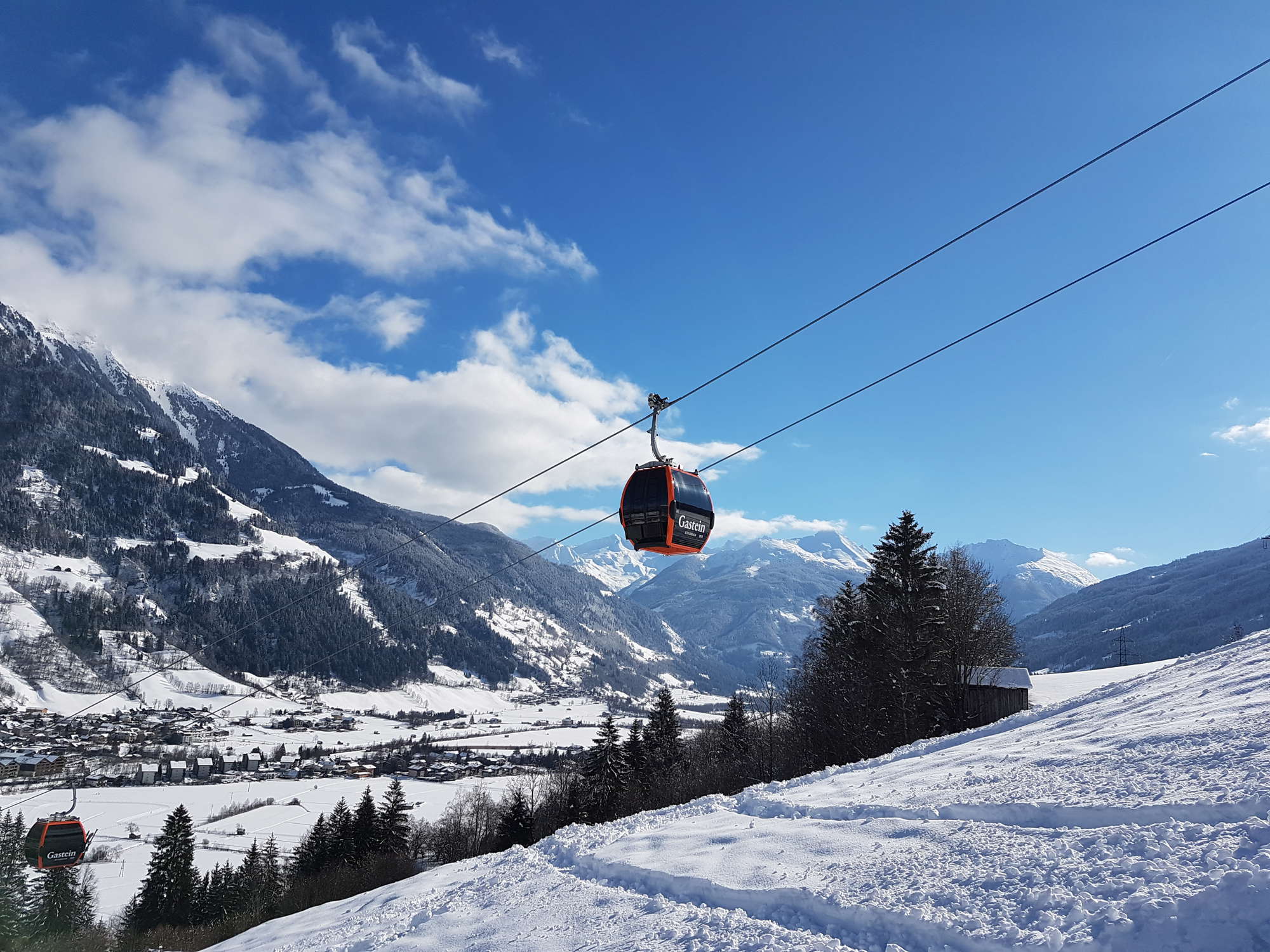 What is the address of the Chalet-Hotel Tannenburg?

Tannenburg, Grillparzerstrasse 24, 5640 Bad Gastein, Austria
What are the entry requirements for Austria?

The best source of up-to-date information on entry requirements is the Foreign Office advice on the UK government website, as this is regularly updated. For further information, please see our 'Travel Information' page - The link is in the footer of our website.
Which airport do you fly into?

For Bad Gastein we fly into Salzburg airport.
How long is the transfer from the airport to the resort?

The coach journey from Salzburg airport to Bad Gastein normally takes around 1.5 hours.
How close is the chalet-hotel to the ski lifts?

It is only around a 5-minute walk from our chalet-hotel to the ski lifts.
Is the valley bus service included with my lift pass?

Yes, the ski bus is included with your lift pass. Please note there are also some non-ski buses that are not included on your pass, so please make sure you get on the right bus!
Where can I store my skis and boots?

You can store your skis and boots right next to the main lift station in the village, which is free if you rent your equipment from Schober Sports, or a small fee is charged for storing your own equipment. Alternatively, you can also store your equipment in the ski room at the chalet-hotel.
Can I get cheaper equipment rental for children?

Yes, it will normally be cheaper to purchase equipment hire for children directly from the rental shop in resort.
Do children get cheaper lift passes?

Yes, children will normally be able to benefit from a cheaper lift pass. This is dependent upon their age, so please call us for further details. Bad Gastein usually offer free child lift passes for any 3rd/4th/5th children in larger families, and towards the end of the season they usually offer free lift passes for any children up to age 15 if they are with a parent who is buying a 6-day adult pass. Please call us for further details on available offers.
Do seniors get cheaper lift passes?

Unfortunately, Bad Gastein does not offer a cheaper lift pass price for seniors.
How close are the thermal baths to the chalet-hotel?

The thermal baths are only a few minutes' walk from our chalet-hotel and are well worth a visit.