The Ski Miquel

chalet holiday
Why do 85% of our guests return each year?
It's quite hard to 'bottle' what makes a Ski Miquel holiday so special, but our holidays offer something a bit different to the rest. Compared with other chalet holidays, the great value that Ski Miquel has to offer and the inclusive social atmosphere we have built over the last 40 years has made us a firm favourite amongst our guests, which has led to us being known by some as "the ski industry's best-kept secret".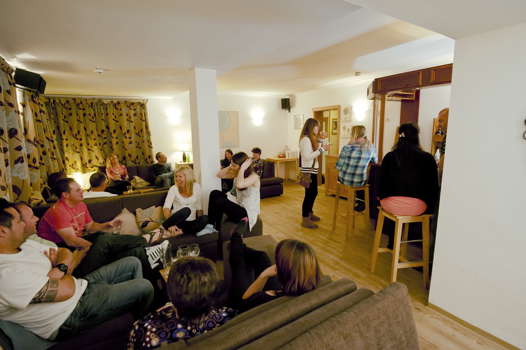 You will receive a warm Ski Miquel welcome from our staff as you walk through the door of one of our chalet-hotels, as they direct you to your en-suite room with British-made beds and comfortable bedding.
After you have unpacked your things and freshened up, head down to our lounge and bar, where a roaring fire will be awaiting you. Our intention is to make this feel like your home away from home.
A Ski Miquel holiday is made as much by our guests as it is by our staff. Our popular social skiing ethos means you can mix with other similarly-minded guests to enjoy the mountains and the ambience in our chalet-hotels, and you will find that making friends is easy.
Get to know our staff, have a chat with some of our other guests, and start getting excited about your first day on the mountain.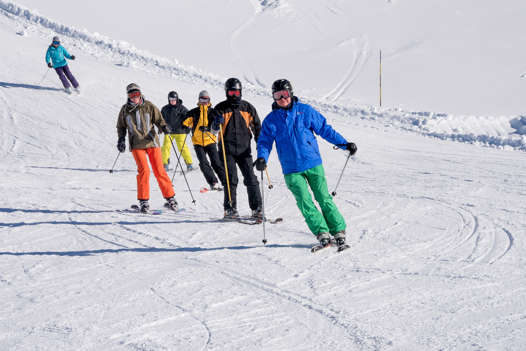 In the mornings you can enjoy a few hours with our ski hosts, as they show you the very best of what the resort has to offer. They know the mountains well, and they will show you how to find the best pistes with unspoiled snow to start off your day.
They will then take you to the best cafés and restaurants for your coffee and lunch stops, which may not be as well-known to everyone else on the mountain, therefore helping you to avoid any queues.
Some of the highlights in our resorts include venturing over into Italy from Montgenèvre, trying the world-famous Lauberhorn downhill run in Wengen from our base in Lauterbrunnen, or discovering the superb Pyrenean skiing in Baqueira.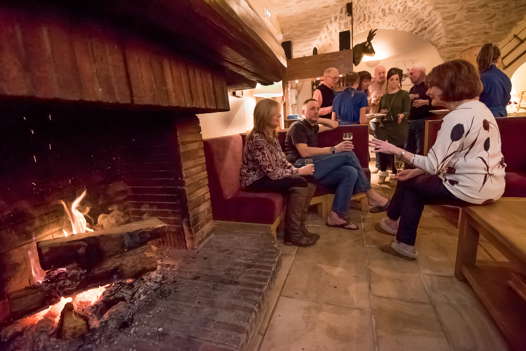 This community spirit doesn't end on the mountain, and coming back to the chalet-hotel for afternoon tea and cake after your day out on the slopes you can share stories with others and enjoy all the fun of being together in the mountains.
At the Chalet-Hotel Rosa in Lauterbrunnen you can head out to the hot tub and enjoy views of the surrounding peaks whilst you soothe those aching muscles. Alternatively, you can just get comfy in front of the open log fire and enjoy being back in the warmth again.
Enjoy a drink or read your book beneath the beautiful stone-clad arches of the Chalet-Hotel Charlotte in Serre Chevalier.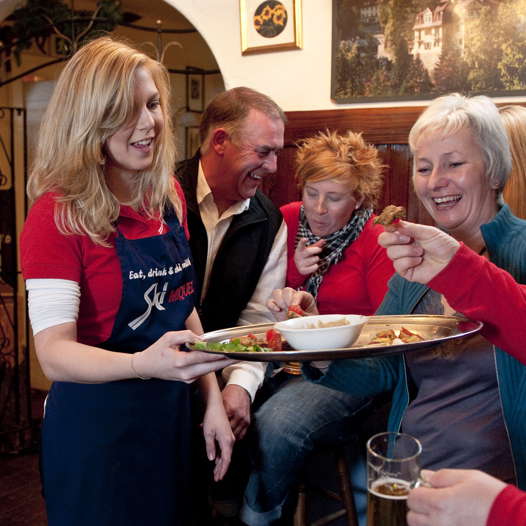 In the evening, your own Ski Miquel bar will open up and offer you great value drinks (always the cheapest in town!) and the perfect opportunity to trade tales of your day on the mountain and indulge in a few tasty pre-dinner canapés prepared by our professional chef.
The traditional Austrian stubl bar at the Chalet-Hotel Tannenburg in Bad Gastein is always a hit with our guests, especially when playing a game of 'Hammerschlagen' (the hammer and nails game). 
The evening meal is when you can join in with your fellow guests, and the conversation will flow along with the complimentary wine!
Our hosts will serve you at the table with the great quality food that regular guests have come to know and love. Skillfully prepared by our chefs using the renowned Ski Miquel Cookbook, you can guarantee a full belly and a happy heart by the end of the evening, so you will be stoked up and raring to go for your next day's skiing.
There are many reasons why 85% of our guests choose to travel with us again and again, so why not find out for yourself? Read some of our reviews below, or get in touch with us about booking your own Ski Miquel holiday.

We hope to see you in the mountains very soon!
Offers & News
Get amazing special offers plus all the latest news and updates direct to your inbox
An update to my previous review
A return trip to the Tannenburg and much of what I wrote last time is still in place. But some recent changes which are worth noting: 1. The menu has been overhauled - food was always good but this time the recipes seemed more adventurous - lamb tagine, cajun salmon and fillet steak (on the last night) were all excellent and a very welcome addition was the night of local cuisine - Goulash Stew with spaetzle and local veg and Apple Strudel went down really well. (Great job, Ashley!) 2. Several new lifts have opened since my last visit which make getting round the ski area much quicker than previously. SO, once again, thanks to Manager Dave, Ferne and Nadine for chalet support and Ben for manfully running the bar despite heavy pressure (!)
This Chalet-Hotel is run by Ski Miquel. This is the first time we have used them and what a great, all inclusive little company they are. The team in the UK office were all friendly and efficient and the team running the hotel were great and looked after us well for a week. If you're travelling solo, as a couple, or in a group, this company offers good social skiing options and a very social hotel environment. I wouldn't hesitate to book with them again, in fact I have just tried to travel in a few days time but they don't have availability, which is my loss!
This was another great skiing holiday with Ski Miquel, staying in the characterful Tannenburg. We first visited in 2018 and were so impressed that we returned this year and, again, were not disappointed. Dave, our resort manager and ski host, was brilliant as usual and made sure that everyone settled in quickly and were well looked after, both in the chalet and on the slopes. The skiing here is extensive and varied and under Dave's expert guidance we covered the pistes in Bad Gastein, Graukogel, Bad Hofgastein, Dorfgastein, Angertal and Sportgastein. Brilliant. A special mention for Ashley and her team, who worked so hard to make sure that the food at the Tannenburg was top class, with tasty and plentiful breakfasts, afternoon tea and cake for those who could tear themselves away from the apres-ski and excellent three-course dinners plus cheese and wine. Many thanks to all the staff. All in all this was a fantastic week, made all the more fun by a great crowd of guests who gelled from day one. Definitely a holiday to remember.
A great chalet in a perfect location
There's a reason why this resort is considered to be the favourite destination of the Spanish Royal family - it's a largely undiscovered gem. Hardly any queues at half-term and once you are away from the gondola there were many occasions we were the only people on piste. The chalet is great and well laid out with good sized rooms. The food is fantastic and varied, even for the vegetarians in our group. The chalet staff are fun and engaging with Tom deserving a special mention, not only for his skiing 'style' but keeping us happy at all hours in the bar - be that in the bar, on the terrace or in the hot-tub! Thank you for a wonderful week.
A Merry Christmas had by all!
Our family spent the Christmas week at Chalet-Hotel Salana with Ski Miquel and we had a fantastic time! It was our first ski holiday as a family and I'm so glad we chose to do the chalet option as it just made everything simple and stress-free. Ski Miquel organised our ski hire and passes before we flew and the manager took us down with the other guests to be fitted when we arrived. The chalet was warm and clean and had a lovely atmosphere. The hot tub was perfect for relaxing in after a hard day on the slopes. Canapes and drinks were served in the bar at 7.30pm where a roaring fire made everyone feel welcome and cosy. Tom mixed a mean G&T which went down well! Dinner cooked by Josh was superb - a mix of local and international dishes and there was enough variety to satisfy all appetites. The rooms were serviced each day. Hotel Salana is a short walk from the chair lifts….this holiday had it all! Oh and the skiing was just amazing - bright sunny days and enough coverage to go up to the highest slopes. Our family thoroughly recommend Ski Miquel and will hopefully be holidaying with them again in the future as we have all caught the ski bug.